Cannabis Infused Bacon Burger
Cannabis Infused Bacon Burger
Did you know that cannabis plants produce terpenes in their trichomes (resin-like glands that act as a defense against pests)? The smell and taste of cannabis are derived from terpenes. Combining them with other terpenes and cannabinoids has many medicinal benefits as well.
High There Sloth Cartoon
Sloth smoking a joint. "High there" Cartoon
High There Sloth Cartoon and 5 Things Humans and Sloths Have in Common
Did you enjoy the "High There" Sloth cartoon? While sloths and humans may seem very different at first glance, they share some interesting similarities. Here are five reasons why sloths are like humans:
Both sloths and humans are mammals, which means that we share a common ancestor and have similar physiological characteristics, such as warm-bloodedness and the ability to lactate.
Both sloths and humans have relatively large brains compared to their body size, which allows us to think, learn, and make decisions.
Sloths and humans are social animals, and we live in groups or communities with complex social structures and interactions.
Both sloths and humans have unique patterns of spots or fingerprints that can be used to identify individual animals or people.
Sloths and humans have long arms and hands that allow us to manipulate our environment and perform complex tasks. This is particularly evident in three-toed sloths with elongated fingers that are well-suited for gripping branches and other objects.
For more interesting content about animals subscribe to Stoner.Boston!
Dandelion Seed Cartoon
"Blow me" Dandelion Cartoon. Check out more silly cartoons and content like this!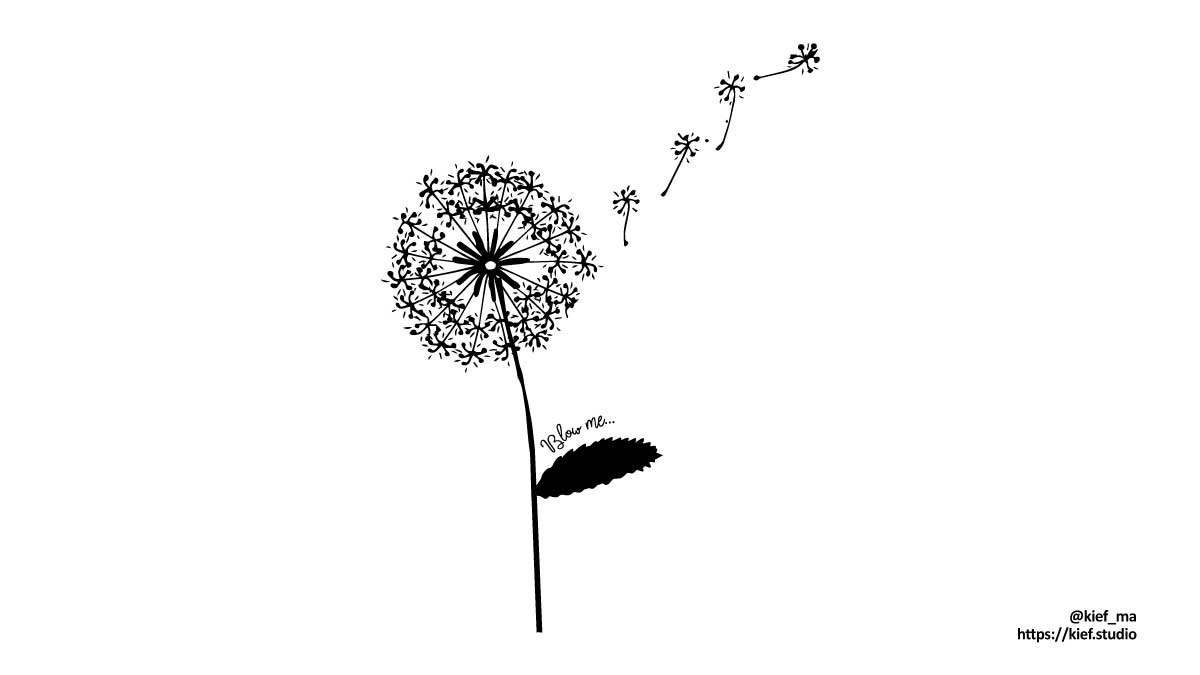 Thanks for checking out this dandelion cartoon. Here are some fun facts about dandelions!

Dandelions are a plant known for their bright yellow flowers and distinctive leaves. They are considered weeds by many because they are difficult to control and often grow in unwanted areas. However, dandelions also have some interesting and unique characteristics that make them extraordinary. For example:
Dandelions are part of the daisy family and have long been used in traditional medicine. The leaves and roots of the dandelion plant contain various compounds that can have health benefits.
Dandelions have a long taproot that allows them to grow in various soil types, including clay and poor soil. This makes them hardy plants that can thrive in many different environments.
Dandelions are one of the first plants to bloom in the spring, and their bright yellow flowers are a welcome sight after a long, cold winter. The flowers are also an essential source of food for bees and other pollinators, making them essential for the ecosystem's health.
Dandelions are well-known for their ability to spread rapidly through their seeds, which are carried by the wind. This is why they are often considered a nuisance by homeowners and gardeners, but it also makes them an important part of the natural environment.
Overall, dandelions may be considered a weed by some people, but they are also fascinating and important plants with many interesting characteristics. For more content like this, look through Stoner.Boston.